How to Choose Your Own Eyelashes
You know that moment in the dressing room when you realize you aren't the 5'10 model on the advertisement outside and it just doesn't look quite right on you? Yeah we've all been there. The same thing can happen with lashes because there are so many different EYE SHAPES. Let's break down the most common ones and which one of our fabulous mink lashes will complement them the best!
Almond Eyes really benefit from rounded, baby doll style lashes. For a more dramatic lash and the ultimate baby doll look, go for the 3D Lite Mink Lash in Lyla. If natural is more your speed, our Mink Lash in Goddess is a ultra light and delivers that effortless, wispy look.
Monolid Eyes look best with flared style lashes that lift up the eyes for a sultry vibe. Our 3D Mink Lashes in Doha adds just the right amount of length and volume that gradually increases towards the outer corner for a flirty cat eye finish. For a lighter lash, our Lite Mink Lash in Luxe is perfect. It adds a subtle flourish of depth and volume for a gorgeous lash flare.
Hooded Eyes need help creating the illusion of openness with lash styles that are longer in the outer corner or the middle.  Our uniquely chic 3D Rome Lash creates just that for any daytime glam or night out look. And for a more natural option, our Diamonds Lash adds the most subtle length and volume and is completely comfortable for an all-day, everyday wear.
As much as we want them, it's so easy to get overwhelmed by too many choices! No one wants to make the wrong one after all. An easy way to narrow down your decision is going by your eye shape. Certain styles are most flattering on specific shapes, so read on to find out which lash styles are your best bet!
Round Eyes look stunning with a wispy lash that really opens up the inner corner. Our most popular last, the 3D Mink Miami is rounded and ultra-wispy that achieves that coveted Insta-worthy glam finish. For a more natural look, our Lite Mink Opulence is perfect. The long and wispy round lashes create a wide-eyed finish to your favorite look without being too heavy.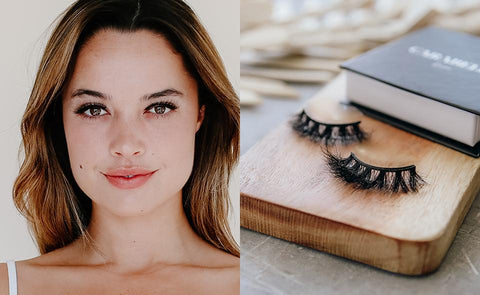 Deep Set Eyes really pop with some density right at the lash line. The 3D Mink Milan  is fluttery, fluffy, and a little winged out for a sultry cat eye look. Everyone is a fan of our Miami lash, and luckily for you Deep Set Eyes folk, our Miami Lite is a natural, lighter version of this beloved lash and goes beautifully with your eye shape.
Downturned Eyes look great with the fun and flirty lift of a flare lash. The 3D Mink Miami Flare is a sexy spin on everyone's favorite lash. The same beautiful density and length, but with a winged out lash for a gorgeous cat eye effect. If subtle is more your speed, Luxe is a stunning Lite Mink option with soft depth and volume for a delicate lash flare.
If you're still unsure which lash style would look best on you, let our experts Lash Match you!